Stress? Headache? Really tired? Well, well, well… Fortunately, we know a place where all your problems will vanish…
Ease gingerly into Aire Ancient Baths, a subterranean cavern of marble, water and relaxation, opening mid-March in Tribeca.
So imagine you have the genious of the lamp at your front and your wish is pleasure.  He brings you all conceivable type of pool—one with salt, one with ice, all of 'em…". Now tack a couple of dedicated massage rooms and a sauna onto this fantasy and you get the idea.
It'll start out, as these things do, in a waiting room. Birdcage chandeliers, earthenware jugs, organic beverages: ok, you already got the idea.  After a quick trip to the locker room, you'll hang a right down a long staircase and emerge into a palatial stone grotto.
You'll have roughly 90 minutes here to go to town. And by town we mean a series of salt, ice, mineral and jacuzzi baths that surround a glass house of hot steam and stone (the sauna). Then, a sense of satisfaction: a scented-oil massage. You're already dead and you came to heaven – it may be a legitimate thought.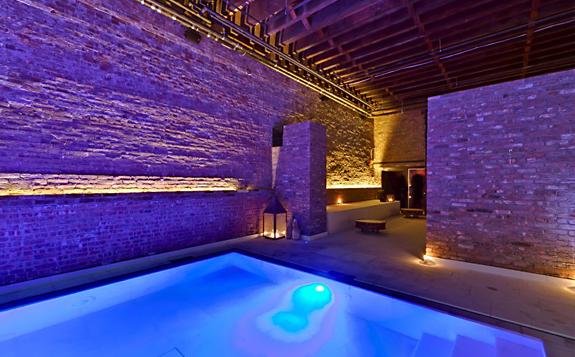 But if that's not enough balneal diversity for you, you'll soon have access to private rooms, where you can have a bath in red wine, champagne or olive oil.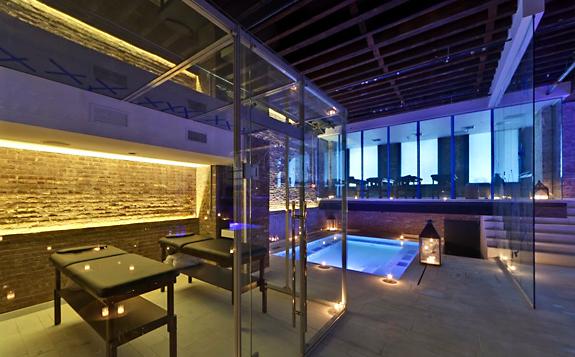 Congratulations, you achieved a forbidden paradise…
Aire Ancient Baths
88 Franklin St
(between Church and Broadway)
New York, NY 10013
(Visited 70 times, 1 visits today)