London's world-class dining scene will no doubt be buzzing during the 2012 Summer Olympics. Carefully selected here are six of the best London restaurants to visit during the Games – each designed by Martin Brudnizki – for a range of tastes and budgets.
From a relaxed lunch at Jamie's Italian or a gourmet sandwich from Mount Street Deli to an unforgettable evening at 34.
34
34 Grosvenor Square, W1K 2HD
Situated around the corner from its sister restaurant, Scott's, 34 is located just off Grosvenor Square. Part of Caprice Holdings, the design of this steakhouse took inspiration from the Edwardian up to the Art Deco period. Showcasing a bespoke charcoal grill imported from Argentina, the 100 cover restaurant was created to be luxurious yet informal, with aged and rustic materials exuding a richness and quality in keeping with the Caprice brand.
Côte
Charlotte Street, W1T 1RE
Côte is the modern interpretation of a classical French bistro. Created by Andy Bassadone, Chris Benians and Marcus Cloud, each site houses strong feature elements such as timber and cement tiled floors, mirrors on the walls and dispense bars. To date, Martin Brudnizki Design Studio has designed 31 units throughout the UK, this one being the most recent.
The Mount Street Deli
Mayfair, W1K 2TG
Brudnizki Design Studio aimed to bring a combination of 20th century charm and modern sophistication to the heart of Mayfair with the design of Mount Street Deli – Caprice Holdings' first gourmet retail concept. The interior was designed to reflect the history of the building which dates to the early 1900s. The Studio retained key architectural features such as original panelling, architrave and skirting details in homage to the prestigious character of a street renowned for the highest quality in retailing.
JAMIE'S ITALIAN Covent garden
& more locations
Martin Brudnizki has worked with Jamie Oliver and his team since 2007 to create numerous Jamie's Italian restaurants within the UK and internationally. Conceived as an informal 'neighbourhood
' restaurant focused on honest, well-sourced food at reasonable prices, the 'theatre' of food plays a significant role as each site houses an open kitchen, antipasti bar and pasta making area on display. The Studio's approach to the design of these restaurants is based on the use of natural materials and found objects to create spaces which are uncontrived and contemporary.
PIZZA EAST
Portobello
Martin Brudnizki Design Studio worked with Nick Jones to create his second Pizza East restaurant; this time located on Portobello Road in Notting Hill. Consistent with the informal feel of Pizza East Shoreditch, vintage items such as the tin ceiling, glazed tiles, reclaimed timber panelling and a variety of found tables and chairs were sourced from New York. The result is a buzzy atmosphere in line with the lively neighbourhood surroundings.
GOURMET BURGER KITCHEN
Westfield Stratford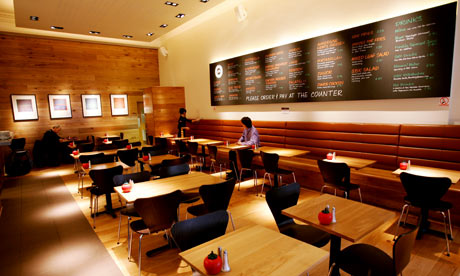 The fourth restaurant to be designed for the GBK team was also the biggest – accommodating 200 covers and a separate satellite balcony seating area overlooking the food court at the new Westfield Stratford, minutes away from the Olympic Stadium. The theme was simple and understated, employing natural materials ranging from reclaimed oak to porcelain tiles, green and yellow leather upholstery to metal pendants and wall lights. To create a sense of 'theatre' and to lure passing shoppers, an open kitchen with a window through to the mall outside was specially designed.
(Visited 238 times, 1 visits today)